Year-Round Nursery

The Grove

The Grove offers year-round, extended days, for children aged 1-5 years old. The flexibility of a day-nursery style of attendance, but with the quality of a bespoke Montessori nursery.

Learn more

The Grove

Nursery & Classes

The Boltons

The Boltons offers both a term-time Montessori Nursery for children aged 2-5 years and our Montessori inspired classes for children aged 6 months – 6 years.

Learn more

The Boltons

Nursery School

The Park

Rated Outstanding by OFSTED, The Park is our Montessori Nursery for children aged 2 years – 5 years old. As a Nature Nursery we are often found in our all-weather outdoor classroom.

Learn more

The Park
About us
Established in 1988, Paint Pots has offered a Montessori education for children through our Nursery Schools and Classes for over 30 years. Our classrooms are full of love and happiness and we are extremely proud of the bright and confident children that have passed through our family.
With Montessori at the heart of everything we do, Paint Pots is known for its creative and nurturing style. Supporting children to develop their independence and confidence across a broad curriculum. Engaging with each child as an individual and inspiring them to reach their full potential.
Our story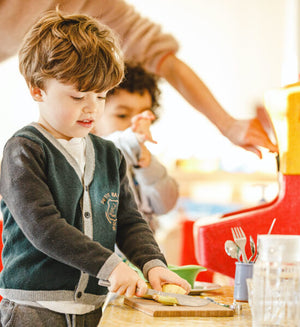 Welcome to Paint Pots
Our class sizes and family atmosphere enable us to build warm relationships with both the children and parents. We firmly value each child as an individual, offering individualised learning and bespoke teaching to suit the needs of each child whatever their age, stage and interests.
As a small group of nurturing Montessori environments, we place a strong emphasis on our family atmosphere and the support of our close-knit community. Collaborating together between home and Paint Pots to make each family`s time with us as rewarding and fulfilling as possible.
Principal's welcome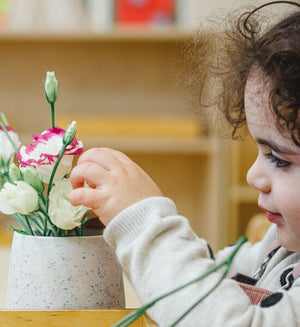 What is Montessori
A Montessori education prepares children to be independent thinkers with a life-long love of learning. We follow each child's interests and after observation, present a new activity that extends their learning.
Dr Maria Montessori saw that when children learn through experience it encourages a deeper and more consistent understanding. She found that happy self-motivated learners form positive images of themselves as confident, successful people.
Learn more
B enjoys the classes so much that she often keeps singing the songs she learnt at Paint Pots throughout the day. She was thrilled by the idea of having a snack with other children whilst sitting in a circle. I could see her confidence growing and sense of belonging increasing after each class. Miss Priscilla and Miss Nadia are just brilliant.

Kate, mother of B aged 2 years 4 months

Both my daughters have had such a special time at Paint Pots. Thank you for all that you do, and all the happy memories – I will always cherish circle time singing all the beautiful Paint Pots songs, and seeing all the positive influence you have had on my children's development.

Annabel, mother of A aged 7 years and M aged 4 years

We have been so happy for R to be at Paint Pots. The teachers have all been very kind and patient with R and really helped him settle in and gain confidence as a result.

Martina, mother of R aged 2 years 8 months

I would like to thank you all for the wonderful time my children and I had over the past four terms at Paint Pots House. My older son very much enjoyed his art class and absolutely loved cookery, his younger brother especially fancied the music part of his class. As I have had the joy of accompanying my children to these classes, I accumulated quite a lot of hours spent at Paint Pots and I loved every minute of it.

Angelika, mother of B aged 2 years 7 months and T aged 19 months

I know that we will have fond memories of our happy days at Paint Pots, from those first wonderful classes in The Boltons, to the cheerful daily school life C enjoys now.

Hannah, mother of C aged 3 years old

Thank you so much for the wonderful time that you gave my daughter A over the Summer Fun camp. It has been absolutely brilliant for her - A was completely comfortable with your staff and the other children from Day 1. The welcoming and calm atmosphere you create is absolutely amazing, and she was reluctant to leave at the end of each day! She woke up looking forward to it the next day, and since the end of the programme she has missed going every day

Angie mother of A aged 3 years

V loved the Sensorial Explorers class - it was the perfect introduction to a Montessori experience, fostering independence through play. He especially adored the music sessions at the end of each class.

Lisa mother of V aged 21 months

Paint Pots is an inspiringly supportive and open environment, where our daughter's development has been a joy both to observe and discuss calmly with the caring, gentle and non-judgmental staff.

Monica, mother of A aged 14 months
Latest news
Keep up to date what is going on at Paint Pots.