Our first session of Sensorial Art & Music at Paint Pots House Creative Classes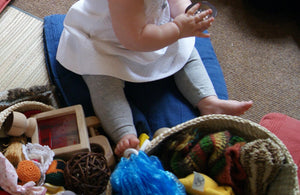 Sensorial Art & Music – 12 – 18 Months
As an addition to the Baby Moves & Music class, I decided to sign Taylan up for the Sensorial Art & Music sessions to fill his precious mind with as much Paint Pots goodness as possible for the term. Set in the Boltons, the class had a familiar feel yet the content and format were different to what we'd previously experienced.
Set up with different 'stations', there were diverse choices of activity on offer; dressing up, a book corner, messy play and various others, with friendly encouragement all the while from the teachers. In fact, one of the teachers reminded me of Miss Honey from Matilda, that a nurturing soul exuding nothing but wholesomeness.
Taylan headed straight for the paint station each time, not missing an opportunity to get dirty. Not quite grasping the concept of painting at first, he poured paint from their pots out on the table, mixing the colours together and watching with intense concentration as blue and yellow merged into green. I was cleaning green paint from both of us for the rest of the day. He created his first masterpiece by accident, a precious keepsake which hangs proudly on my fridge. It didn't take him much time to learn that by making strokes and prints, he was painting. On his last session he decided that painting on paper simply wasn't enough; he wandered over to the toys, picked out rubber duck and brought it back to the table to decorate it.
After play time, the children were gathered together for a drink and snack, practising structure and discipline; to get Taylan away from that paint was a little testing! After the brief repose we sang nursery rhymes, ones which were familiar and others he hadn't yet heard, capturing the children's imagination with props and actions. Although each session lasted for an hour, I felt as if we had a little taste of what nursery would be like. Perhaps this was one of the main intentions of the class; to introduce and prepare the little ones for longer, unaccompanied sessions.
Alexia De Angelis – Paint Pots Mum