About us
Set within the beautiful gardens of The Boltons our term-time Montessori nursery offers quality education in the heart of Chelsea.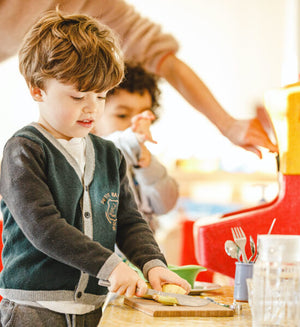 At The Boltons we offer a Montessori nursery education to children from 2 years to 5 years old. Our nursery is set in a beautiful church hall with plenty of light from the floor to ceiling windows. Our classroom leads directly out to our outdoor area that is shaded by the trees of the magnificent gardens.

Our classroom is carefully designed so that the activities are displayed at the children's level, encouraging freedom of movement and choice. A wide range of Montessori materials sit alongside traditional activities such as books, art materials or puzzles. The children have the freedom to discover, explore, learn and enhance their skills at their own pace. Every area of the EYFS (Early Years Foundation Stage) is seamlessly blended with our Montessori curriculum and materials.

The teachers observe the children which enables them to have a strong understanding of each individual child so that they can plan to follow their interests and extend their learning. Presentations and materials are prepared to challenge children to increase their knowledge and abilities. We continually assess and refresh our activities to ensure the environment is always fresh, enticing and relevant for our children. The children work and play independently, with their friends or with a teacher.

Alongside the free choice of activities that the children have access to, we offer structured group activities such as rest your mind time, cooking, music and show & tell.

Our overall aim is that all the children feel they belong, have fun and enjoy coming. This joy of school enables them to learn and ignites their interest and curiosity. We believe that the more possibilities a child has within our environment then the more creative and inventive they become. We passionately believe that each child is individual and we plan and work together towards a child's autonomy to enable them to thrive.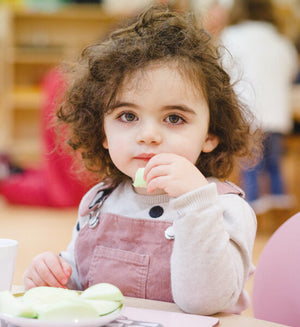 Children attending our morning sessions have the choice to stay for the full day at Paint Pots in our 'Lunch Bunch' afternoons. The children bring in packed lunches and are involved in preparing the tables and washing up the crockery afterwards. Lunch time is a relaxed and social part of the day where we all sit down and eat together.

We go on outings locally to places like the supermarket or to explore the private gardens of The Boltons in small groups. We also go on outings further afield to places such as Holland Park or the Science Museum.

We love to work closely with the families and parents and believe communication between home and school to be vital. Families are an integral part of all that we do, they are welcome to join us for activities, share experiences, assist on trips or join us for circle times such as Show and Tell.

BEFORE NURSERY

While it is not a prerequisite for joining our nursery we do recommend that our nursery families attend our Classes for children. These accompanied classes for children from 12 months up to 2 and a half years old are held in the upstairs room of The Boltons. Children who attend our Classes and transition into our Montessori nursery at 2 years old benefit from a gentle introduction to the Montessori way, the location of The Boltons and our teachers.
Contact us
For more information about Paint Pots Classes contact Lucy our Office Manager on 020 7223 0123.
It's such a comfort to know that R is having such a fantastic start to life. So much fun, imaginative learning, support and love all mixed together. We couldn't be happier.

Jess, mother of R aged 4 years

We have been extremely happy with Paints Pots and would like to thank everyone for making it such a wonderful experience for D and us. D has loved going to Paints Pots every day and will miss it a lot.

Tehmina, mother of D aged 3 years 8 months

What can I say it feels like the end of an era! All three of my boys have absolutely loved Paint Pots and each boy is totally different from his brothers! I think the staff manage to tune into each individual child and nurture them and their CREATIVITY. That is why the children are always so happy, and it has been the case with each of our boys that they do not always want to come home.

Suzanne, mother of J, T & N

Through every step of the way, the team at Paint Pots (both admin and teachers) have been warm, welcoming and understanding with me. The teachers at Paint Pots have done their utmost to ensure my child; who has additional needs, gets as great an experience as every other child. As a parent, I am glad my child is in the hands of a team that genuinely cares for my child's overall development and wellbeing.

Nadia, mother of M aged 3 years 4 months

Paint Pots is the real deal. When you arrive at Paint Pots, the teacher will be at eye level with your child, rather than you, to greet him or her and shake hands. As a fly on the wall during the day, you would see children busily "working" for prolonged, uninterrupted periods at activities which have been set out with their individual developmental needs in mind.

Daphne mother of C age 4 years 6 months

Thank you for a wonderful start at Paint Pots! Despite the challenges of lockdown, G's experience at school has been magical and we have never seen him so happy.

Catherine, mother of G aged 3 years

Paint Pots was a nurturing and encouraging environment in which my shy son was able to develop socially at his own pace. He is now more outgoing and confident, and loves going to school. We will all miss Paint Pots.

Juliana, mother of M aged 4 years 2 months

Many thanks from us to the lovely teachers at Paint Pots who have made a made an immense contribution to S's confidence and development over the last year. We could not be happier and neither can S, who talks about the fun he is having at the nursery.

Nathalie, mother of S aged 3 years 6 months

Thank you for two wonderful years in which we watched our daughter flourish at nursery school. She loved her experience at Paint Pots and we could not be more grateful to the team there.

Lisa, mother of M aged 4 years 2 months

C's time at Paint Pots has been entirely enriching for my whole family. You and your wonderful team have truly given our little girl the best possible start to her academic journey and I cannot thank you enough. I know that we will have fond memories of our happy days at Paint Pots, from those first wonderful classes, to the cheerful daily school life Celeste enjoys now.

Hannah, mother of C aged 3 years

Thank you again and as you know I will never forget the amazing support I was given from Paint Pots. It was a challenging time and L was so little that he really needed all that care and attention, and luckily I had you guys who really provided him with everything he needed! You are really an amazing team and you have planted a beautiful seed in L, which will never leave him. Quite amazing really when you think about what an influence you had on him :) thank you, thank you thank you!!!

Gudrun, mother L aged 3 years 8 months

Paint Pots has been my son's home away from home for two years. Everything about this wonderful Montessori nursery and its fantastic staff is faultless to the point where I was concerned that school life won't ever match the caring involvement and unique atmosphere D has experienced here.

Romana, mother of D aged 5 years
Latest news
Keep up to date what is going on at Paint Pots.